The Happy Commuter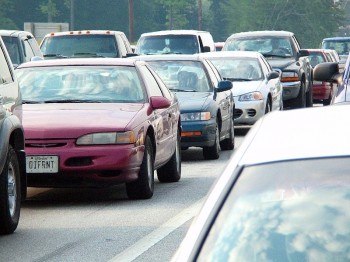 We all spend a fair amount of time commuting, new research from the TUC has found that the average commute is just over 52 minutes per day.
This can play a large part the development of back ache, The British Chiropractic Association has found that one in three commuters (32%) are suffering from back pain. With this in mind, Young's Spinal Health has some great advice for travel-worn commuters.
Driving
Commuting by car may be seen, by some, like the easy route, but driving remains a key trigger of back pain, contributing significantly to the length of time spent sitting inactive each day at both work and home. Sitting down can put twice as much pressure on the spine as standing up.
- If driving (as we are all different shapes and sizes), make sure you adjust car seats, head rests and steering wheels to meet your individual requirements. This will not only improve your comfort in the car but also your safety.
- When dirving long distances, make sure you stop regularly and go for a walk. aim for a break every 30-40 minutes.
Public Transport
- If you mainly stand on your commute, make sure you wear comfortable shoes and loose clothing. Stand with your feet shoulder width apart and hold onto a rail comfortably, don't over stretch.
- If you do get a seat, relax when sitting into your chair, making sure you have your bottom against the seat back and your shoulder blades are touching the back rest of the chair. Avoid stiffness by doing shoulder shrugs, buttock clenches and foot circles.
- If using a laptop, don't sit in the same position for long periods, as you are looking down onto the screen with your head unsupported. Rest the laptop on a table, not on your lap, arms should be flat and your elbows level with the desk or table you are using.
Don't forget........Muscles and joints are designed for movement so, where possible, walk as it will help improve muscle tone, improve circulation and posture. Walking also works to reduce the appetite so is very good for all those looking to get fit and lose weight.
If you are suffering with niggling pains or would like a check, contact Dr. Laura Young M(Chiro) on 07591 424338 or by e-mail, enquiries@youngsspinalhealth.co.uk