For Festival goers and Happy Campers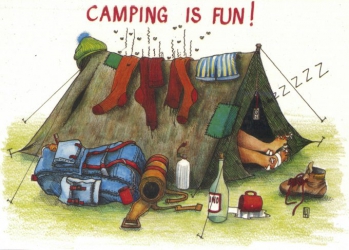 Many festival-goers and campers are at risk of damaging their backs by simply doing what they love. Whilst they may remember all the essentials like wellies, glow-sticks and a sleeping bag, they might not spare a thought for the effects that camping and general festival-life can have on their back. 
Research released earlier this year by the British Chiropractic Association (BCA)* and Sealy Posturepedic found that 43% of those who have suffered back pain in the past or continue to do so now cited that their bed/mattress/pillow is/was a major factor in triggering that pain. Given that those surveyed were sleeping on a normal mattress, extra precautions are certainly required when sleeping on the hard ground under canvas. 
To ensure you don't miss out on your camping holiday or festival fun, Young's Spinal Health has the following advice:
Protect your back – Ensure your back is protected against a hard and potentially damp surface by sleeping on a quality approved camping mat.
Pillow Talk - Try to also take your pillow from home, if you find it comfortable and supportive. If this is not practical, a blow-up pillow is the most portable. Have a 'dry run' on it before you leave home to make sure you can sleep comfortably on it.
Prep your sleeping area first – make sure to remove large stones or sticks that could dig into your spine.
Another consideration that festival-goers and campers should bear in mind is the size and weight of their rucksacks and luggage.  59% of Brits believe that lifting and carrying is a cause of back pain they have experienced. 
Standing for hours at a time during your journey there with a heavy bag weighing down on your back could cause an injury before you even start your weekend, so be sure to consider the following advice:
Two bags are better than one - If possible, take two or more lighter bags rather than one so you can distribute the weight more evenly.
Rucksacks are best - Make sure you can pack all your kit into something that is easy to carry. A rucksack that has wide straps distributes the load more evenly over your back and if it has chest straps this further helps to dissipate weight.
and finally:
Keep hydrated - If you are queuing in the sun for long periods of time, rather than alcohol, which will cause dehydration which, in turn, can aggravate muscle pain, drink plenty of water and juice.
Still Standing – If you know that you are going to be on your feet for a long time, make sure you wear comfortable shoes and loose clothing. Stand with your feet shoulder width apart to support your back and hips
If you would like to speak to Laura Young M(Chiro) DC about any of these points please call on 01656 856162 or email on
enquiries@youngsspinalhealth.co.uk
Make some positive changes today and enjoy your summer to the fullest.