Chiropractic care and your child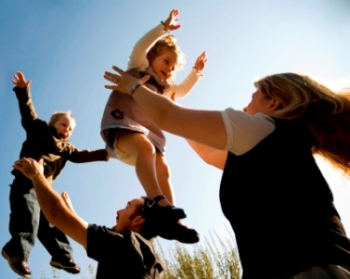 At any park where children are playing, it seems there's always one who falls over or has a collision with a nearby object. Children have lots of bumps and scrapes as they grow and develop, just as adults have their fair share too! Chiropractor Laura Young, has seen how chiropractic can help children grow and develop by maintaining the function of the developing body, allowing kids to cope with the odd bump and fall.
"Treatment for children is always very gentle – they need very little to keep their spines healthy, and most of the time they have no problems at all. If you think of all the bending and twisting they go through at birth, those little spines can cope with a lot! However I would recommend any parent bring their child in for a chiropractic check-up, just like the dentist."
And parents should not neglect their spines too – all that bending and lifting takes its toll. "The adult spine is less flexible than a child's, and repetitive actions like carrying a child on one hip or bending down to play can lead to restrictions in the spine and surrounding muscles," says Laura.
Call today 01656 856162